The general application steps for Certificates of Origin and for ATIGA Form D (wholly obtained products) are as follows: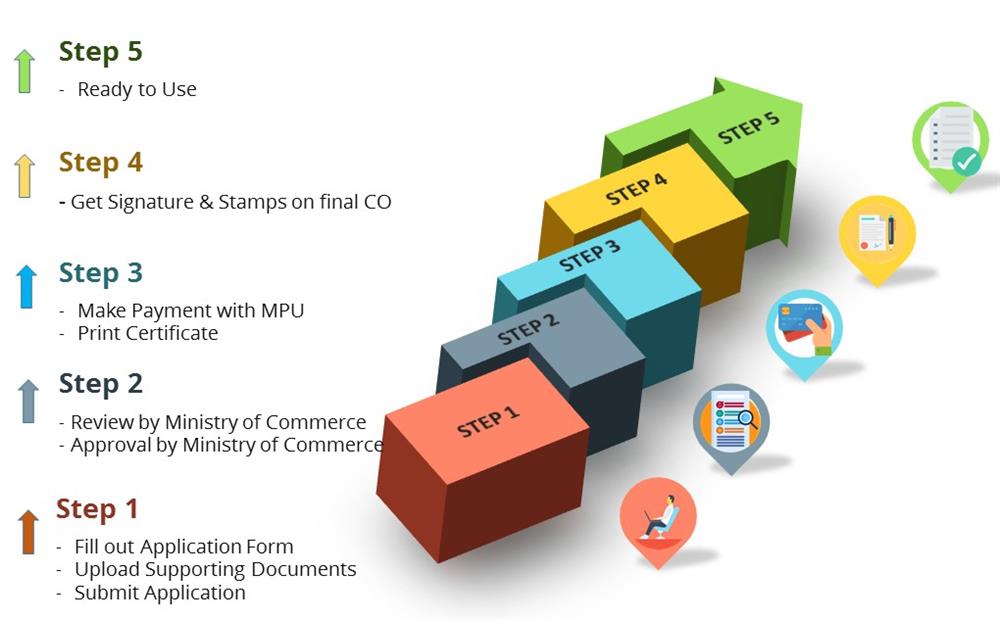 The general application steps for Product Registration Card (wholly obtained products) are as follows:

1. Invoice
2. Packing List
3. Cost Statement for(one unit)
4. HS Code (at 6 digit level) and Description of Input Materials and Finished Products
5. Production Process
6. Import Declaration for Input Materials/Document generated by MACCS System
7. Sale Contract
8. Industrial Registration
9. Product Photo
10. Letterhead for MOC
11. Letterhead for MOI
12. Other
The application steps for ATIGA Certified Exporter are as follows:

1. Form XXVI Copy
2. Company Registration Copy
3. Undertaking Letter
4. Specimen Signature of Authorized Persons
The "Certified Exporter" scheme is a pilot project under the ASEAN Trade in Goods Agreement (ATIGA). Economic operators that have been certified by the Ministry of Commerce can self-certify the origin of their goods instead of applying for Certificate of Origin Form D. This self-certification scheme is intended to further facilitate intra-ASEAN trade.
Traders can apply for a Certified Exporter Code through this website and use the Code to scan and upload their invoice declarations electronically. This way, a personal visit to MoC to submit the hard copy documents is no longer required.
More information can be found at: